The Watermill Inn and brewery sits beside the main road from Windermere to Kendal and the hotel and restaurant does a thriving trade during the summer months, with no tables available when I arrived and few until about 9pm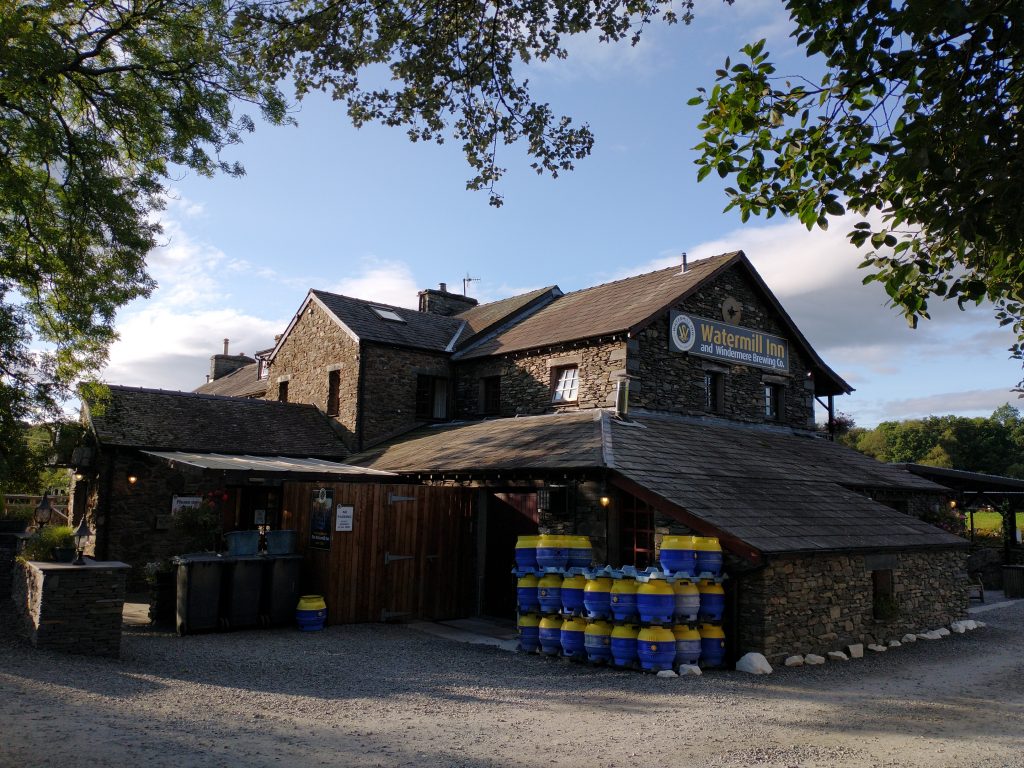 The owners had an ambition to have a micro brewery on site from the time they obtained the licence in 1990  but waste treatment was a problem and it was not until 2006 that they started brewing and they now produce eight different beers.  I can attest that their Bit'er Ruff is an extremely palatable full-bodied golden brown bitter with an ABV of 4.1%, so palatable that I managed four pints of it.
The waiting staff were attentive and efficient and I had mushroom and stilton soup, very good haddock and chips and a mango and raspberry cheesecake, but not up to the standard of Somerton House the previous night.
The room was small and the single bed rather uncomfortable so I did not sleep well. This morning I came down at 8am expecting breakfast but was told that they served between 0830 and 0930 so I went and packed my bags and got everything ready to leave.  Breakfast was a help yourself to cereals and croissants and I enjoyed a full breakfast, again not as good as Somerton House but perfectly acceptable.  My bike had been housed in the brewery overnight and was soon extracted and packed and I left at 0932.  It was a glorious sunny morning with virtually no wind and I knew that I had some early climbing to do to get over the hill to Levens.  I followed a gated road, rapidly climbing about 300 feet and was glad that I had the motor. Opening and closing three gates gave me a  bit of a rest so I reached the summit feeling pretty good.
The  road undulated a bit but it was mainly downhill for the next six miles when I had another stiff climb for a couple of miles, enjoying the stunning vistas,
before hitting the A6 at Levens Hall which is a private house famed for its topiary garden.
I had planned to take a route that avoided the A6 but decided that as it is a wide road with a lot of cycle lanes I would stick with it for about 16 miles all the way though Milnthorpe, Carnforth, Lancaster and Preston and the traffic, though noisy, was not a great problem. Of more concern was the mudguards which were rubbing the tyres. I stopped and did a bit of fettling on the rear and that seemed to fix it. The front was much more difficult and having put up with the noise until I had passed Lancaster I pulled over and removed the mudguard completely. I managed to stow it in one of the panniers, though would gladly have chucked in the hedge. What bliss not to have the constant rubbing for the rest of the journey.
At Preston I was directed through the centre of the town to Avenham Park which was being enjoyed by many people in the sunshine.  The road dropped steeply towards the muddy watered river Ribble and then crossed it by what must have been an old railway bridge
because the well surfaced path then continued past Bamber Bridge, through woods and fields before crossing the A6 and continuing to Lostock and joining up with the Cuerden Valley Park trails
all the way to Whittle le Woods where I rejoined the A6 and a short section of minor road which crossed the M61 before I turned onto the towpath of the Liverpool and Leeds Canal which I followed for about 12 miles. 
The surface of the towpath varied considerably. Short sections were tarmac or brick, most was hard packed dirt but there were some sections that were muddy and rutted with raised tree roots so it was not easy going and my speed dropped considerably. Iwas also having to cope with several gates which were not designed for a fully loaded bike and several times had to remove the panniers to get through them.  After turning off the canal as it decended 200 feet through a series of 21 locks at Wigan
I was directed along even smaller paths through the woods around Ice-in-Makerfield and lost my way several times because the paths were so indistinct.
Eventually I emerged onto public roads with about five miles to go, so from leaving Preston I had travelled across country for about 20 miles hardly touching a road. There was a penalty which was the time taken, and I arrived at Premier Inn, Golborne at about 630pm, an hour later than I had expected at the start of the day. The early part of the day in the Lakes was most enjoyable but schlepping along canals is wearisome and by the last 10 miles I was gritting my teeth.