The Spread Eagle at Gailey is a Marstons Inn and a typical pubco hotel and restaurant at the junction of the A5 and the road from Stafford to Wolverhampton.
I arrived at about 7.30pm after my difficult day on the canals and was efficiently booked in and given the disabled room nearest to the front door which suited me very well.  The room was a similar size to Premier Inns so the bike was easy to store and I unpacked the pannier that had been for a swim in the canal with a certain amount of trepidation but, in fact, it was the one that contained my clothes rather than electrical equipment and very little water had got in.  I have my clothes packed in plastic bags anyway so there was little evidence that they had been for a swim.  I was told that the carvery ended at 8pm and they stopped serving all food at 9pm so I got myself washed and put everything on charge and went over to the restaurant.  The fare was typical pubco with no sign of fresh vegetables and chips with nearly everything.  I went for carrot and coriander soup, chicken wings, sausage mash and peas and finished with a chocolate sponge and ice cream.  It was all perfectly nice but unexciting.  I took the computer with me and sat and composed the blog after I had finished eating, drinking 3 pints of Pedigree whilst I was at it.  Not that long ago if you went into such places there was always a side dish of fresh vegetables available but no longer, presumably because few people ordered them. Unfortunately it illustrates our poor eating habits as a nation.
I went off to bed at about 11pm expecting the same sort of comfy bed that you always get in Premier Inns. I think that it was the most uncomfortable bed that I have ever slept in and having tossed and turned trying to sleep, I eventually resorted to putting the spare pillows under me to provide a bit of a cushion. I think the floor would have been just as comfortable. I complained about it to the Manager at breakfast so I hope that the beds may be changed. Breakfast was help yourself to cereals, tea and juice with croissants and toast available. Full cooked breakfast was substantial and good and at £8.95 reasonably good value on top of the £45 for the room.
I had originally intended to follow the canals that run through the Staffordshire and Worcestershire countryside but after yesterday decided main roads were preferable. I had a lunch date with old friends about 40 miles into my journey so, knowing that my average speed was likely to be less than normal, I got going at 0930 hoping to be there by 1pm. I was on A roads but they were generally quiet, being a Saturday morning and I soon arrived in Wolverhampton where I passed Molineux, home of the Wanderers, one of the founding members of the Football League in 1888. A statue of Billy Wright, their most famous player who captained England a record 90 times and was the first player to win more than a century of caps for his country, stands outside the main gate.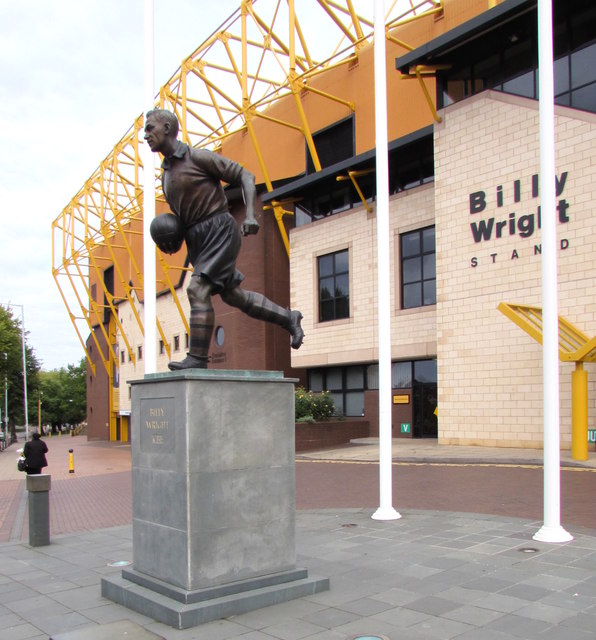 A little further down the road is Banks's brewery with that distinctive yeasty aroma as I cycled past. It's now part of Carlsberg Marstons Brewing Company and Banks's ale was on draught at the Spread Eagle last night.
The main road carried me to towards Kidderminster: I had my head down so did not take in much of the countryside and the road was wide enough to avoid traffic problems. I skirted the town and crossed the River Severn at Stourport which was en fete with a music festival and fairground.
I was now in quite familiar countryside having spent three summers whilst at Cirencester Agricultural College haymaking at Cob House Farm which was my lunch destination. I met Willy 52 years ago when we both started the Estate Management course at what is now the Royal Agricultural University and we have been friends ever since: the sort of friend that you don't see for years but carry on where you left off. He and Annie were hosting their family for the Bank Holiday weekend: daughters and sons and their children and it was great to catch up with them all and enjoy a good lunch with some green stuff on the table. I stayed for about 3 hours and left in a rather erratic manner as I wobbled up the drive in the wrong gear. Once I got going all was well and I made my way across country in the general direction of Worcester but skirted it to the south on the very good bypass network. I stopped for a pee by fields of asparagus, their fronds waving gently in the light breeze

and then recrossed the River Severn at Upton which was also staging a festival with thousands enjoying the sunshine and music.
The gear change on the bike was getting worse and with about 6 miles to go I suddenly lost all drive and stopped to find that the derailleur had completely fallen off. Although I ride my bike most days I'm not a great expert when it comes to complicated mechanicals so I rang son Rob to find out what I should do. "Take the chain off completely, and then see if you can screw the fitting back onto the hanger" This I did successfully but couldn't see how it all went back together, so we had a fractured conversation by phone and pictures to right the problem. Rob was becoming increasingly exasperated by my ineptitude but eventually it started to make some sense to me and, amazingly, I got going again and made it to the Royal Hop Pole Inn in Tewkesbury where I am staying the night by about 7.15, over an hour after I expected to be there. However it's a Wetherspoon's pub which serves food until 11pm and the beer's cheap so I sha'n't go short.