Inverness was full last night. I'm not entirely sure why; a combination of Saturday night and an inner city bike race and sportive on Sunday, but when I went out in search of food at about 730pm there was nothing available. The earliest that I could get a seat in a restaurant was 9pm so I gave up and went back to Greig Street where I has spotted a Chinese takeaway. An excellent sweetcorn and chicken soup and a slightly too spiced seafood rice dish quelled the hunger back at the Quaich where I have stayed twice before. Sadly Covid has also taken its toll on breakfast at the Quaich and I needed to find something to give me an early morning boost. As my route took me past the vast shopping complex at the Inches, I dropped in at Macdonalds, being the only place open before 10am, for a Breakfast roll and cuppa tea. I can't say that it took the place of a good breakfast but it filled a hole until lunchtime.
There was a significant climb out of Inverness on the Culloden road but I managed to stay off the main A9 for the first seven miles until there was no alternative but to brave the fast moving traffic. A couple of miles later I was thankful to turn off onto a B road and make my way up a steep climb towards Moy. The road levelled out and I had a most enjoyable ride through beautiful scenery in sunny conditions with virtually no wind.
My route essentially followed the A9 but I was scarcely aware of it for much of the journey. I couldn't resist the picture.
20 miles or so in I crossed the Findhorn Bridge and had the steepest climb of the day. The motor helped me up the bank and then I was able to switch off as I made my way up onto the moors and pine woods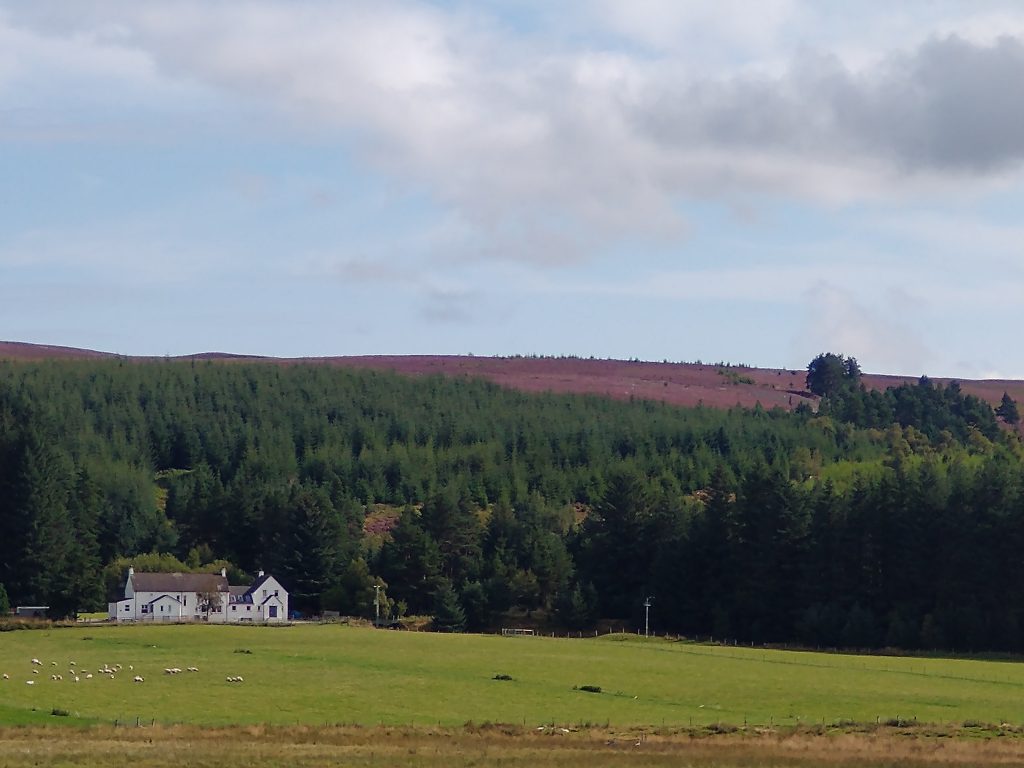 where I finally re-joined the A9 but on a separate cycle path that crosses and re-crosses the main road on its way to Carrbridge. Progress was pretty slow but I finally reached the road that took me into Aviemore. The town was buzzing at lunchtime with every eating place full. It's a large town, on the railway, with plenty of accommodation for both the summer and winter seasons. Skiing takes place about 10 miles from the town on the Cairngorms and there is plenty to do in the summer with mountain biking and water sports on the nearby lochs and rivers. I vaguely looked for a bike shop to sort out my rear wheel but couldn't see anything obvious, so moved on along a B road to Kingussie.
In Kingussie I stopped at the Co-op, mainly to buy 2litres of water as I was running low but bought a pack of doughnuts to boost my energy.  As I walked out of the shop I was accosted by a man who asked where I was going?   He introduced himself as Maurice and said he was walking from JOG to Lands End to highlight the problem of Prostate Cancer.  He wasn't specifically raising money but wants to raise awareness of a disease with which he has been diagnosed, in the hope that all men will be tested before it is too late.  At the age of 68 he has been given 3-5 years but is currently healthy enough to walk the walk.  Have a look at his Facebook page  The Wee Walk for Prostate Cancer Awareness and see if there is anything you can do to help.
I remounted as it started spitting and within a couple of miles it was raining properly to the extent that I pulled over and put on my rain jacket as I sheltered, as best I could, under a sycamore tree. The rain eased a bit and I set off again through Newtonmore where, as the rain once again increased, I found a closed shop and sheltered in the doorway. Finally the heavy shower disappeared and the sun started to peep through.
Sustrans and the Scottish Government have done an amazing job of making a cycle path that cuts across the Cairngorms without touching the main A9. Partly on B roads, but mainly dedicated cycle track, well surfaced and properly maintained it spoils cyclists and walkers by comparison with most of the rest of the UK. From Dalwhinnie with its distillery over the Pass of Drumochter and down almost to Blair Atholl there is a beautifully tarmacced path that is a joy to cycle.
I was amazed at how few people were using it. In that 30 or so miles I only saw two other cyclists and no walkers. The motor stayed on for the whole climb up Drumochter which is the highest railway line in the UK and one of the highest points on the Sustrans network.
and by the time I reached my destination at Blair Atholl the battery was virtually empty. I was glad to reach the Atholl Arms Hotel at about 6pm: 83.5 miles over hilly terrain is becoming a bit too much for me. I should sleep well tonight.