The Atholl Arms at Blair Atholl is set back from the road opposite Blair Castle, which, next weekend hosts an international horse trials.  It is everything you would expect from an rather faded country house hotel from the Baronial Dining Hall with minstrels' gallery
to the avocado bathroom suite and paper thin walls between rooms: but the welcome from Zoltan was warm, if stiff, with a (perfectly reasonable) firm request to don a mask before he booked me in.  Unusually for me I had booked directly, rather than through Booking.com, and had agreed a price for Dinner bed and breakfast.  Having done the usual wash and change I went down to the Bothy Bar at the side of the hotel which was full of diners.  Outside there is a marquee and I was sent out there until there was space in the bar. To my great surprise when I asked about beer I was offered real ale.  The Moulin brewery, just down the road in Pitlochry, brews four types of ale, including the excellent Braveheart which is a 4.5% ABV IPA and I quickly downed a couple of pints.  As a table was now available I ate an excellent meal of thick Scotch Broth, chicken breast stuffed with black pudding in a cream sauce and a cinnamon apple crumble with custard.  For a bit of variation I finished off with a pint of 3.8 ABV Light Ale which was also very good. The double bed was comfortable and the bathroom adequate but the snorer in the next door room kept me awake for a bit.  This morning the Full breakfast was well cooked and efficiently delivered and I had a bowl of porridge to keep me stoked for the day.
As I left I met husband and wife cyclists who were on their way from Land's End to JOG. Their journey was much more relaxed, a maximum of 50 miles a day but they had obviously enjoyed their trip and were hoping to be at JOG on 28th August.
My journey today was largely downhill to Perth but, as I was following National Cycle Route 7 there were some quite steep climbs to keep me off the A9 which flows straight down the Tay valley. I cycled past Killiecrankie, the site of a famous Jacobite victory over Government forces in 1689,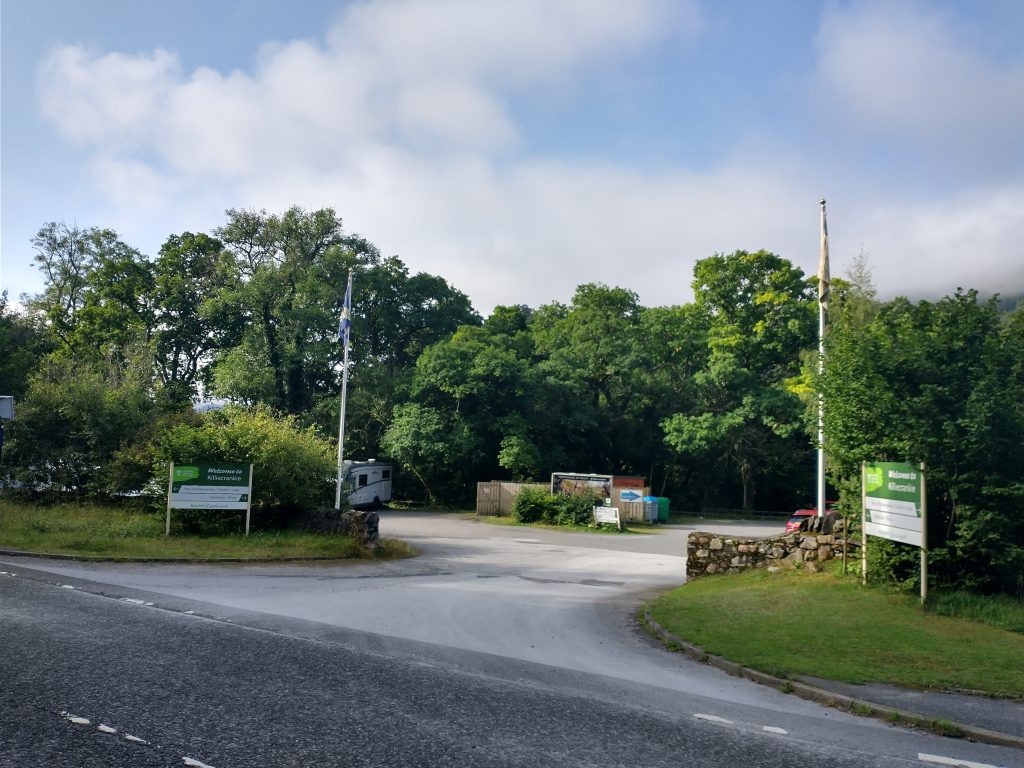 where the National Trust for Scotland has a Visitor Centre and on to Pitlochry where I crossed the River Tummel by way of a pedestrian suspension bridge and looked upstream to the dam that houses a hydro-electric station and has an ingenious water ladder so that salmon can bypass the dam and make their way upstream to spawn.
The road then climbed away from the valley and I found myself playing cat and mouse with the bin lorry. After a while he stayed ahead of me and the road was clear. Despite some quite steep pitches I didn't use the motor. Eventually the road descended and I crossed the Tay viaduct at Logierat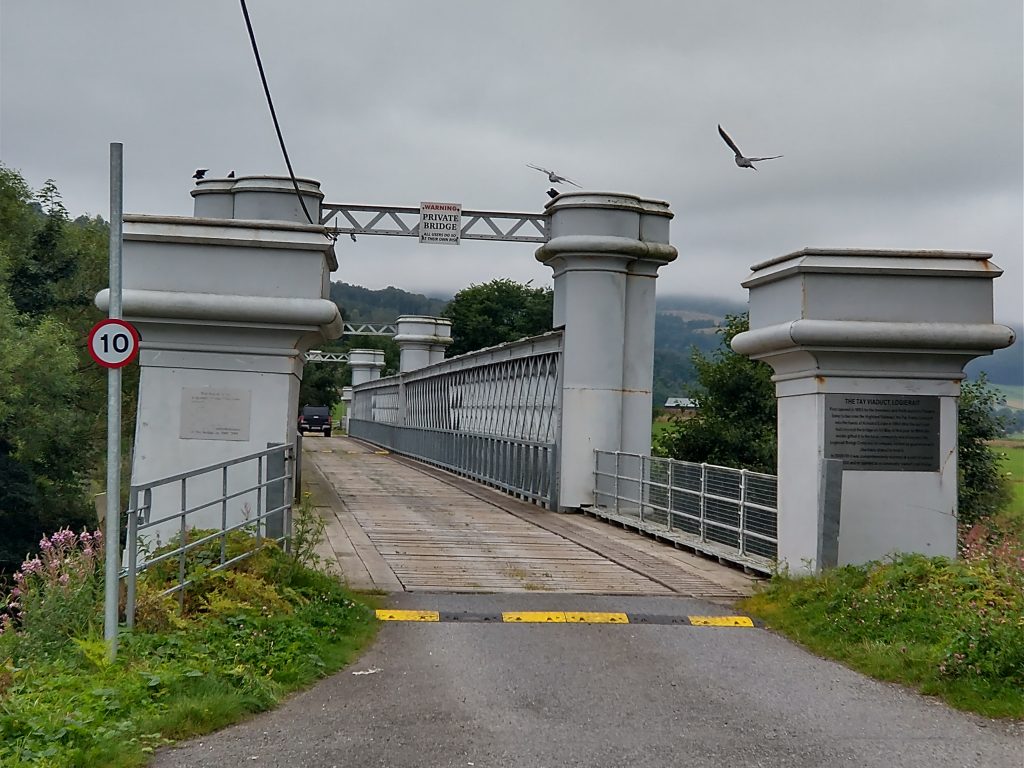 and followed a B road down the Tay Valley. Just short of Dunkeld I took to the A9, which was pretty unpleasant and I was glad to be able to find an alternative which took me most of the way to Perth. There is a good cycle track that runs through parks and past a well manicured golf course on the banks of the River Tay, by now a significant river.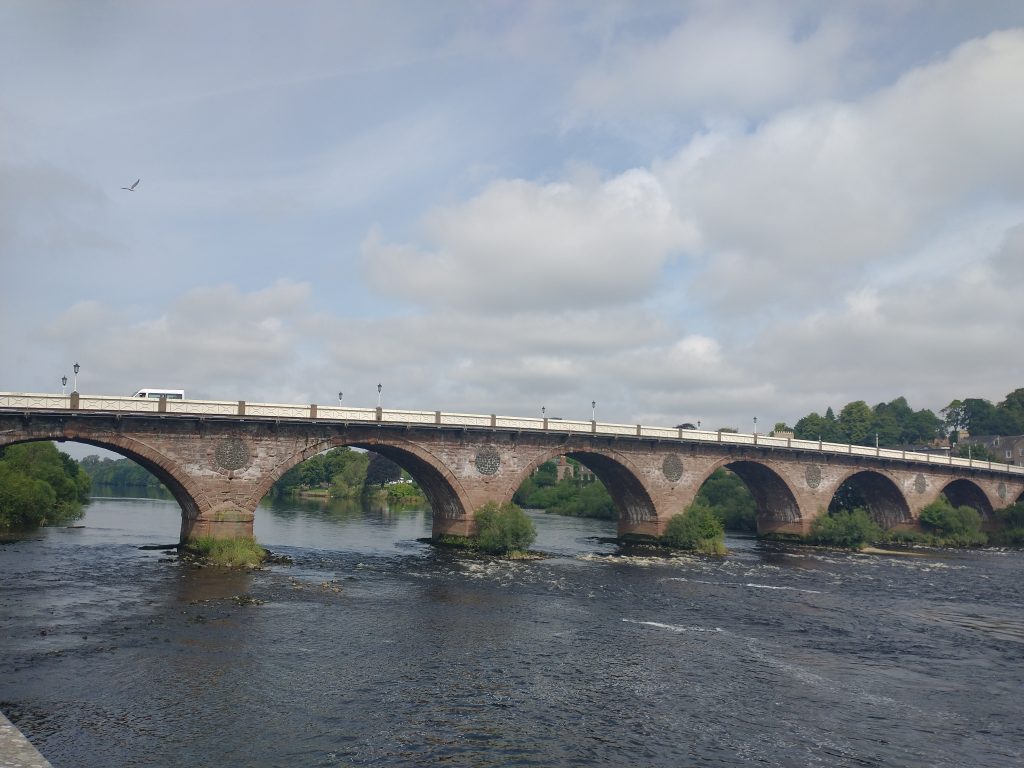 I continued through an industrial estate where I spotted the Tower Bakery and stopped for an extremely unctuous macaroni cheese and an iced bun. This also seems to be the place that Perth's fridges go to die.
The road climbed steeply out of the Tay Valley and equally steeply descended in to the next valley before crossing the eponymous river at Bridge of Earn. Then came the big climb of the day, not particularly steep but it went on and on and I had the motor going at its lowest setting for about six miles before looking down on Loch Leven. I now had about 25 miles to go and the next 10 were up and down through large villages and housing estates before I joined a good cycle track that took me most of the way to the Forth crossing. There are three bridges across the Firth of Forth. The original is the rail bridge which was built in 1890 and is probably the most iconic Scottish emblem.
The second is the Forth Road Bridge that was opened in 1964 but exceeded its capacity so much that a third bridge, the Queensferry crossing now carries most traffic on the M90 motorway. It was the Forth Road Bridge,
now open to only buses and taxis, pedestrians and cycles that I crossed in pleasant still conditions before making my way to my overnight stay at the Premier Inn on the edge of Edinburgh airport at Ingliston. It's been another hard day with significant climbs but I don't feel quite as tired as yesterday.