Premier Inns, close to the airport at Edinburgh, contacted me a couple of days ago to say that there would be no evening meal available at the hotel on Monday night.  I had booked and paid for dinner bed and breakfast and one of the things that is essential for my journey is that I get fed every night.  There was nothing I could do about the lack of food at the hotel (and Premier Inns have refunded the payment) and, as it was one of their Thyme restaurants, I wasn't missing much but I needed to find an alternative.  Googling restaurants within walking distance of the hotel came up with the Bridge Inn at Newbridge or Macdonalds.  The former appear to operate on an irregular schedule and Monday night was not a food night.  Macdonalds for a  breakfast bun is one thing but to make it my main meal seemed beyond the pale.  I quizzed Duncan who was operating the bar but he confessed that he wasn't local and couldn't make any suggestions.  I had a pint of Belhaven whilst I considered the situation and was gratifyingly amazed that it only cost £3.15.  More Googling, this time for local food deliveries, came up with Dynasty Chinese in Broxburn and, for the first time in my life, I ordered a meal to be delivered to the hotel via a company called Scoffable.  A few minutes later a confirmation email popped up saying it would be delivered in 1 hour 10 minutes and so it was. The delivery driver phoned me from outside the hotel, I went outside and collected it and gave him a tip and Duncan provided the crockery and tableware. Bosh!  The sweet and sour pork, egg fried rice, vegetable chow mein and spring rolls were extremely good but very generous and, unlike me, I actually had to leave some of it.  For £24 including delivery and tip I thought it was good value. Another pint of Belhaven to wash it down was essential.
This morning, after a restless night, probably through over eating later than usual,  I had the usual help yourself to as much as you like breakfast and set off into a rather murky morning at 0930. 
The initial journey had a shared pedestrian/ cycling footpath which, curiously petered out and I found myself dicing with traffic for a couple of miles.  After that it was cycle paths alongside rail tracks and through parks, including crossing the river Almond (synonymous with Avon, so another River River),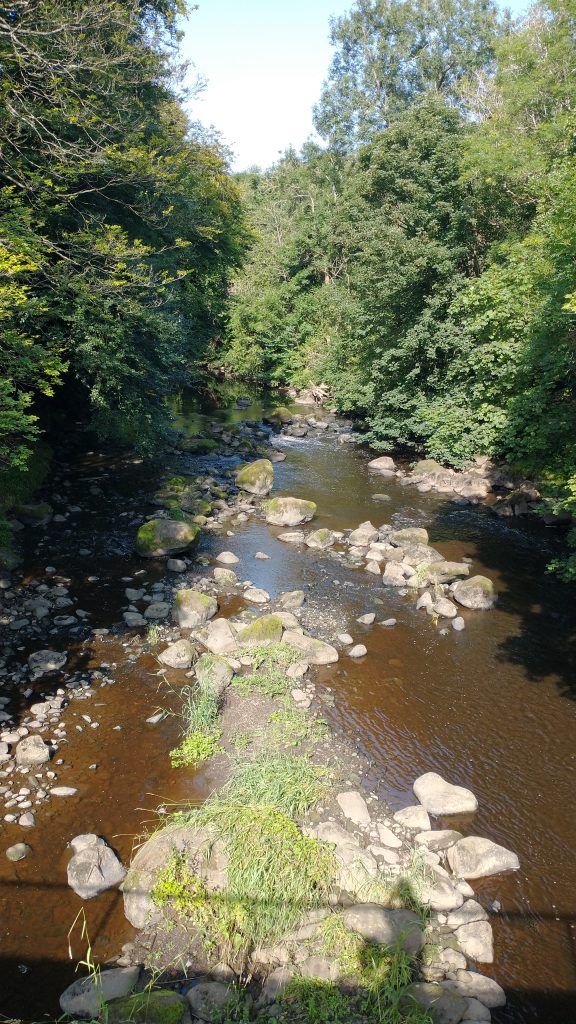 for about 6 miles which sounds great but, unfortunately involved so many twists and turns through residential areas that I became thoroughly lost.  After much swearing and cursing and stopping every few minutes to consult the navigators, I finally broke out of Livingston and into the Pentland Hills above Edinburgh.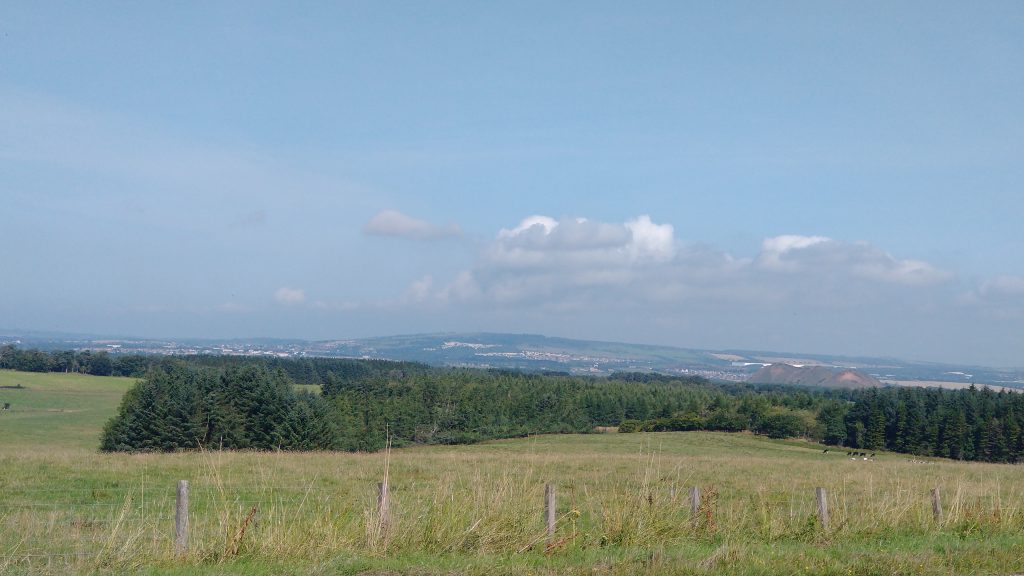 The bike has been noisier and noisier over the last couple of days. I put this down to mudguards catching on the tyres and my shoes which seem to start squeaking after a couple of days. Today I narrowed it down to the fact that the noise only happens when I pedal: so it can only be my shoes, the chain drive or the bottom bracket which, on an electric bike is the gear box. I thought I would stop on the top of the Pentland Hills and investigate. This also allowed me to dry the clothes that I washed the previous day and I put them out on a large tree trunk to dry in the late morning sun. I looked closely at the bottom bracket and saw, to my concern, that the two bolts holding it were loose, to the extent of almost falling out. And one of them was so proud that it had started wearing into the chain ring. I carry various tools but most of them are hex keys and these two bolts were Torx heads. Mercifully on my Topeak multitool I found the only Torx driver I possess and it was the right size. It's caused a bit of collateral damage but not serious and, having tightened the bolts, I found myself cycling quietly ( except for the squeaky shoe). I hate to think what would have happened if the bolts had fallen out but all now seems well.
The sunshine and lack of wind made for a very pleasant ride over the moors, studded with barely moving wind turbines, and onto more intensively farmed land, mainly grazing but with the odd field of barley ready for the combine.
The road went up and down, occasionally requiring the motor, until I crossed the River Clyde by the Thankerton Bridge at the incongruously named Jacksonville. 
The Clyde rises high in the Lowther Hills of South Lanarkshire and flows northeastwards until it turns to flow west, providing the power for the initial industrial revolution in Scotland in such towns as new Lanark, Motherwell and Hamilton before widening at Glasgow to provide the perfect setting for shipbuilding.  Sadly most of this industry, especially the shipyards, of which only two remain, has disappeared, destroyed by cheap imports.  There is now a Clyde Valley Route that is being touted by Visit Scotland, that takes visitors past the main sights.
I was now climbing to join the A73, a former trunk road, that is now little used and was a joy to cycle along.  I stopped to take some pictures of coos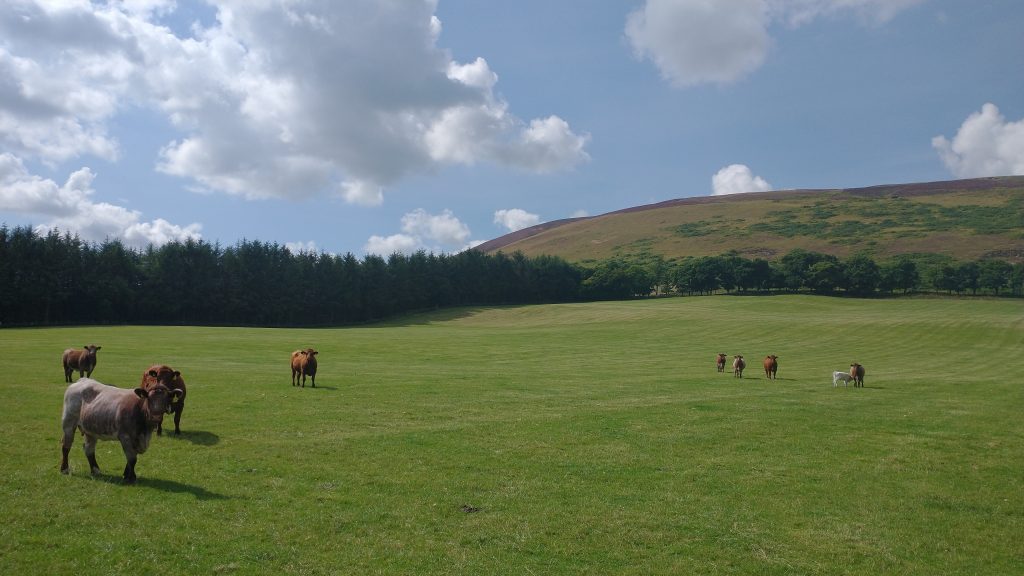 and just before I joined the busier A702 stopped to stretch my legs and allow the clothes to dry completely. Onwards the road started climbing more severely past Abington Services where the A74(M) appears from the south and for a further 10 miles or so until it plunges steeply down towards the English border. 
This road, which I have now travelled three times and has been largely superseded by the A74(M) which it closely follows, has a marked cycle lane for most of the ten miles down to Moffat but it has been allowed to deteriorate to the extent that it is better to cycle on the Highway for most the time. Beyond Moffat there is some dedicated cycle path and then back to the rather poor cycle lane all the way to my destination at Lockerbie.
Lockerbie is, perhaps, most notorious for being the unfortunate town below the path of Pam Am Flight 103 which blew up in mid-air on its way from Frankfurt to Detroit on 21st December 1988 killing all on board and 11 residents of the town. The Libyan Government eventually accepted responsibility for the atrocity and paid some financial compensation. The 270 casualties make it the most deadly terrorist attack in UK history. There is a poignant garden of remembrance in Sherwood Terrace where some of the wreckage fell onto houses, killing residents.
I'm staying at Somerton House Hotel and was warmly welcomed by Brian when I arrived, exhausted, at 545pm.  It looks very nice and I shall report further tomorrow.