The Somerton House Hotel in Lockerbie is a family run hotel set in a Victorian red stone house with decorative Kauri wood panelling in the main rooms. Designed by Alexander "Greek" Thomson in, as his nickname suggests, the classical style it is a comfortable Victorian villa which has been sympathetically converted internally. Apparently a schooner from New Zealand was wrecked close by and its cargo of Kauri wood was bought by a local doctor who used it in his new house. The building has been extended with a rather ordinary PVC conservatory to provide extra dining areas and there are a fine pair of sandstone Lions, nicknamed Livingstone and Stanley, that guard the front door.
Brian, the duty manager, greeted me warmly and asked after my journey, before showing me to the ideal room for an itinerant cyclist. It was on the ground floor of an annexe, of good size and with a decent shower room. I took the bike into the room, put everything on charge and washed myself and my clothes. There was plenty of room to rig up a washing line to dry my kit before I went across to the hotel for food and drink. Sadly the beer was cold Scottish pish but better than nothing: however the food was something else, excellent broccoli soup with garlic bread followed by tasty sea bass with vegetables, all well cooked and presented. I finished with a sticky toffee pudding and ice cream. Certainly the best meal I have had on this journey.
This morning dawned fair with sunshine flooding through the window at 7.30. I went across for breakfast at 8 and struck up a conversation with another singleton at the adjacent table. George, I discovered, manufactures and sells Agricultural machinery from his base in Saxmundham under the name of Simtech-Aitchison. In the car park, on the back of a trailer, was a direct seeding drill that he had been demonstrating to a local farmer before taking it down to the Scottish Agricultural college near Dumfries for an open day.
He drives about 70,000 miles a year demonstrating his kit to anyone who is interested, but, at the age of 68, with a wife who is showing signs of dementia, he'd like to slow down but not stop. A most interesting conversation that set me off on the right foot. It is interesting to see the different approaches to breakfast in Scotland. At Helmsdale, Blair Atholl and Premier Inns it was largely help yourself whereas at Somerton House everything was ordered and served to the table. The adherence to masks also seems somewhat haphazard.
I got going at about 0930, shadowing the Motorway all the way to Gretna where I crossed into England.
Beyond Gretna I went across country, crossing the River Esk and skirting the River Eden at Rockcliffe where I hit quite a steep hill that I managed to get up without the motor. Knowing that I had a lot of climbing to come I was keen to save the battery as much as possible. The road wriggled around Carlisle crossing the river Eden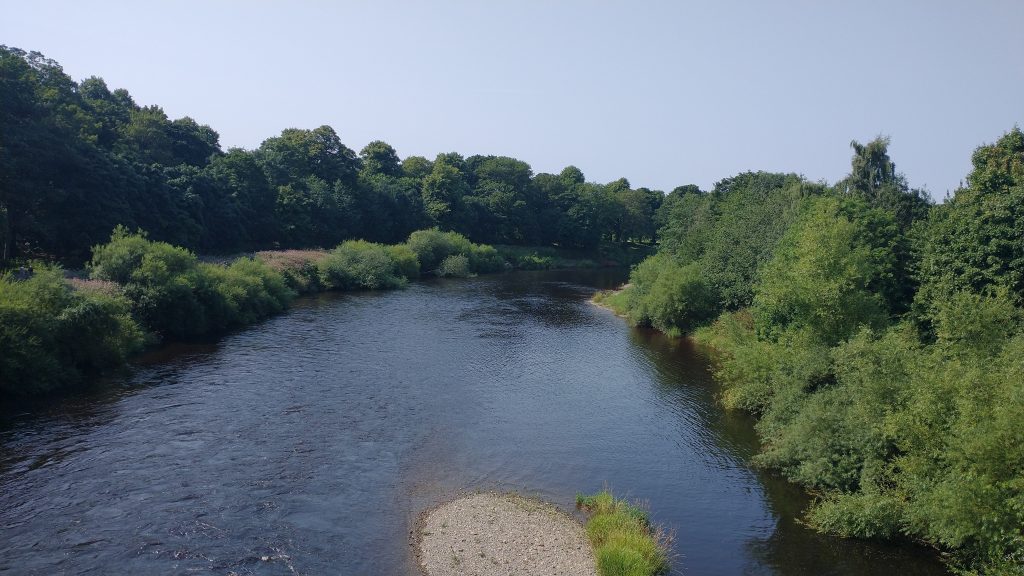 and I made a couple of false moves before I found a cycle track which should have taken me through the city and out the other side.  Unfortunately the powers that be had chosen to dig it up and provided no obvious diversion.  I set off in the right general direction, but without certainty, and then spotted Lidl and thought that I would stop for lunch.  Having bought supplies I was pleased to find that I was right next door to the cycle track that I had left earlier which took me all the way out of the city and up to the racecourse.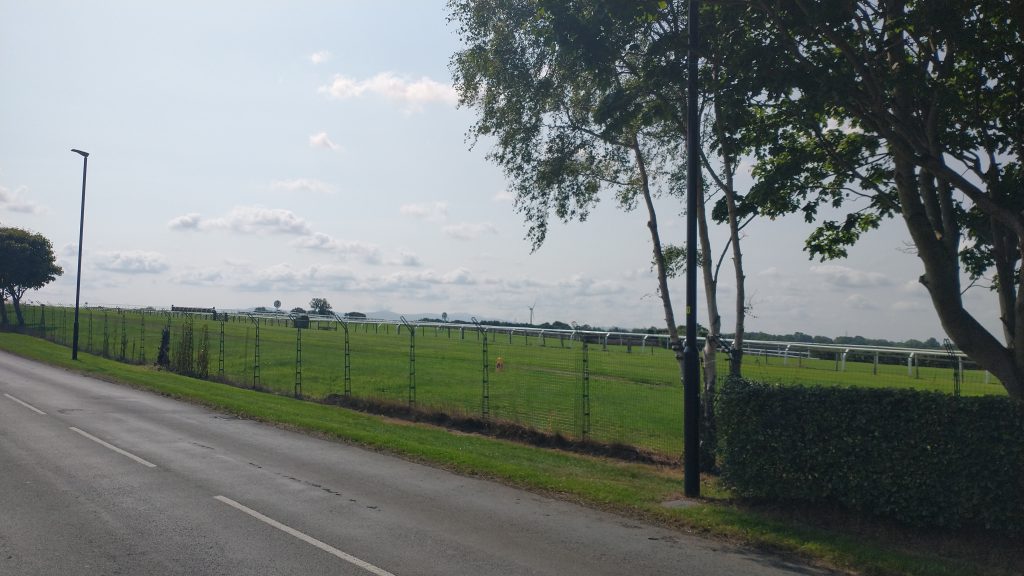 The way was now generally uphill, but not steep and took me past the village of Unthank which struck me as an interesting name. A bit of research shows several villages of this name and the probable etymology is that in Old English it denotes an area of land that has been unlawfully occupied.
Past Greystoke and the Boot and Shoe Inn that I had provisionally marked out for lunch I was heading into the hills and the Lake District. The road reared up and the motor came on and I climbed up to Matterdale End where I dropped down to Ullswater, passing the Aira Force waterfall. It was hard to believe that I had done so much climbing that the drop to Ullswater was so steep and long. I was now on an A road with considerable traffic and as the road wound along the shore and rollercoasted up and down I was aware that I was holding it up. There were masses of people enjoying the water and the sunshine and Glenridding and Patterdale were busy.
Leaving Brotherswater on my right, I was about the embark on the main climb of the day up Kirkstone Pass. The road sign claiming 20% gradient was perhaps alarmist, Gary Garmin showed a maximum of 17% and he usually over reads. Anyway it was definitely bottom gear and maximum motor that got me to the top. I stopped to take photos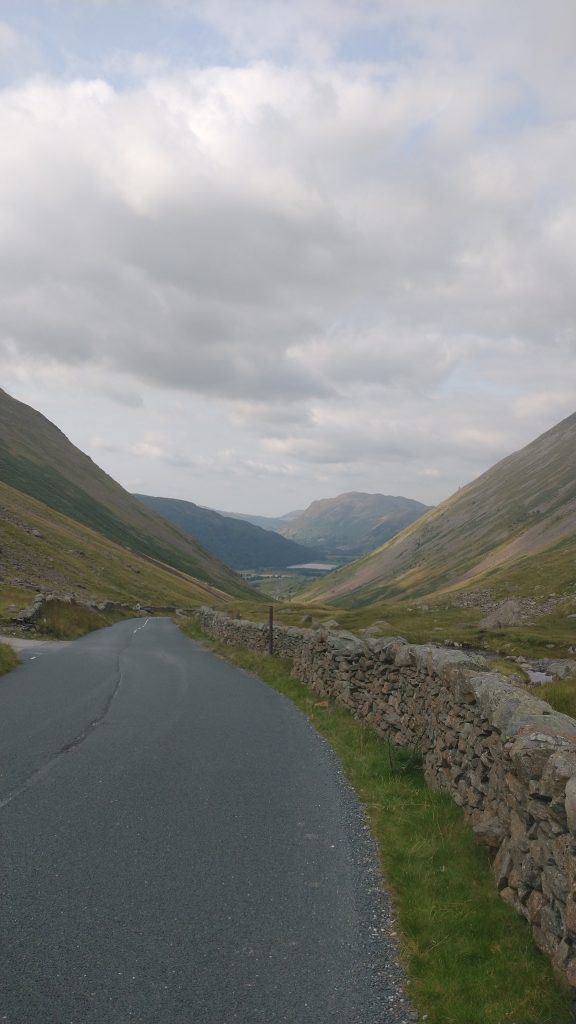 and then descended rapidly towards Windermere. (QI fact there is only one lake in the Lake District and that is Bassenthwaite: the rest are meres, tarns or waters!)
Before reaching Troutbeck Bridge I hung a left that involved another climb over the top and then down to Ings, briefly joining the main road from Windermere to Kendal which was very busy.  Fortunately there was a cycle path which took me to my hotel, the Watermill Inn which also boasts a brewery, so I should be well set for a good evening with my bike safely locked away inside the brewery building.