Lanhydrock Golf Club provides a beautiful 18 hole course which is set in mature parkland complemented by contemporary 45 bedroom accommodation with conference and function facilities. (well that's what it says on the website)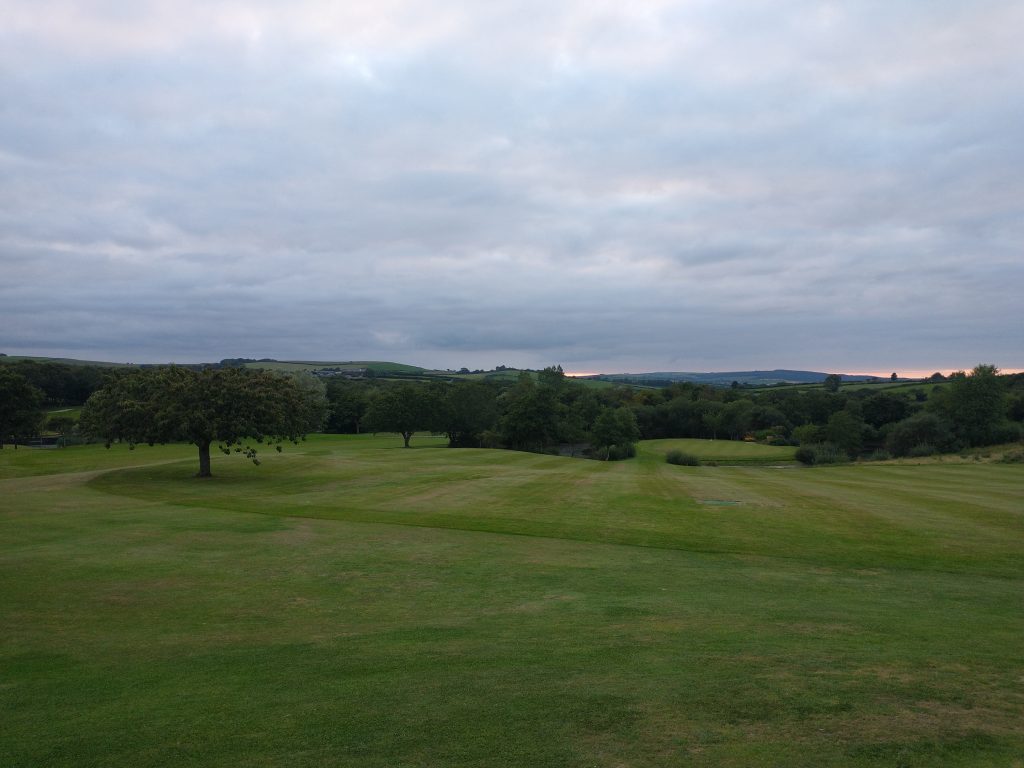 It's been developed by a local family who have other golf courses in the South West and, by the number of people attending Captain's evening, is extremely popular. We pitched up at about 4.30 after the biggest climbing day of the trip but feeling quite chipper. I think having others cycling with you makes a difference and is was nice to have been able to chat with my Godson James as we made progress. Rich and I dined at 730pm on fish and chips and burger respectively: I must say that the burger was particularly tasty, and washed it down with a couple of pints of Doombar.
We sussed out that breakfast was served from 0700 and that there would be someone on reception to release the bikes from their overnight security in the Gym that is currently unused for that purpose. The beds were comfortable and the shower powerful so full marks for the hotel. We were down at 0658 and first in to breakfast, so we were quickly dealt with and enjoyed a full Cornish that didn't vary at all from what is available elsewhere in the UK.  As we had a train to catch in Penzance at 1615 it seemed sensible to start as early as possible to allow for any problems we might encounter, so we were on the road at 0747.  We started by climbing up the front drive that we had come down very much faster the previous afternoon and then turning onto a minor road that ran close to the busy A30 which we crossed after four miles. Our route was designed to follow the A30 without actually going onto it and all went well as we crossed the Goss Moor Nature Reserve
having passed under the iconic steel railway bridge that used to hold up all the traffic heading further down the peninsula before the A30 was widened and rerouted.
We carried on through Indian Queens, whose name comes from a pub that used to stand beside the road, Fraddon and Mitchell, all now quiet having been by-passed, before being forced onto the A30 for about four miles because of the closure of a short section of our route for further road construction. It was not a pleasant experience but, as if to compensate, we then entered the high banks and hedges that typify Cornish lanes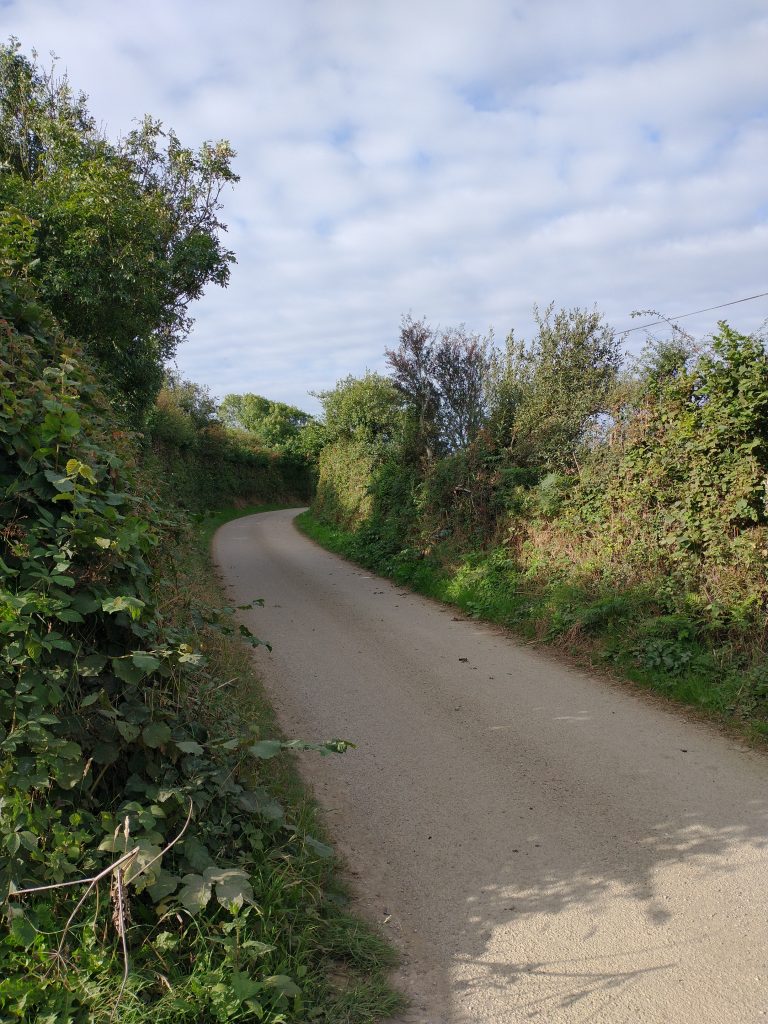 as we wound across country north of Truro. The bike motor certainly helped me out but Rich had to grit his teeth and commendably made his way up some very steep and long pitches without apparent difficulty.
We emerged into civilisation at Chacewater and diced with traffic queues as we took to the pavements through Scorrier, Redruth and Camborne. We made our way towards the north Cornwall coast at Hayle, the tide out in Copperhouse Pool,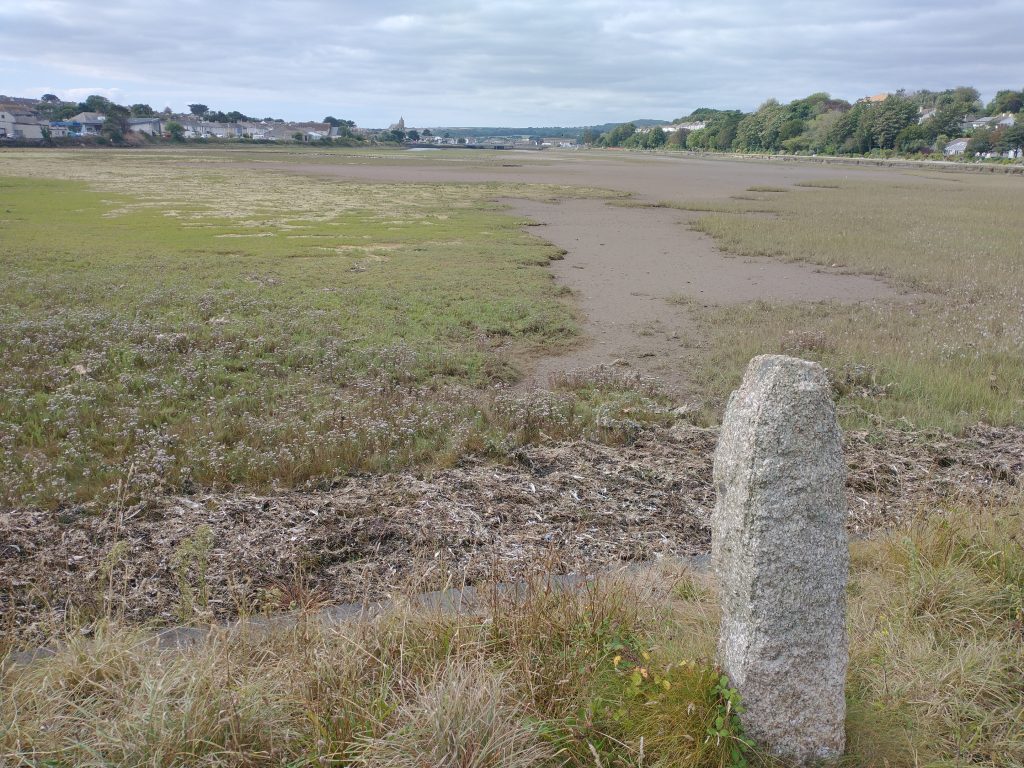 before we crossed the estuary and took a cycle path to St Erth and onto backroads that threaded over the hill to Marazion and views of St Michael's Mount.
We, at first, missed the cycle path that joined up with the South West coastal path just short of Penzance and cursed our luck when we found it closed.  Short of turning back three miles and making for the A30 we had little option but to bump our bikes down steep concrete steps and onto the beach for a 200 metre trudge on loose sand and shingle that robbed us of valuable time, now becoming short.  Having extricated ourselves we went through the middle of Penzance and re-joined the A30 for the final dash to Lands End. It's a hilly road and I had the bit between my teeth to the extent that I left Rich far behind by using the motor at full throttle.  He phoned, I missed the call: I phoned, he didn't answer and after what seemed like an eternity of waiting I thought the only sensible thing to do was to continue to my destination as fast as possible, take the picture and return on the A30 to see what had happened. After all the main purpose of the trip was to get to Lands End and if I failed to do that I would have felt robbed.  So I carried on at full belt and arrived just after 2pm, found the signpost, which had a queue of people waiting to have their picture taken by the official photographer for £10 and persuaded a passing cyclist to swap pictures. 
He was just about to start his trip to JOG and I had, finally, finished. Now all I had to do was find Rich and all would be well. I pushed my bike back to the entrance and there he was. Phew! After the "where the hell have you been?" he agreed that I had adopted the only sensible approach and we looked for ice cream. The queues were so long that we gave up and started back for Penzance and the train. I had mapped a slightly different return journey which took us past Greeb Farm where ice cream was being advertised. Unfortunately all that was left in the freezer was Vegan Raspberry Ripple and Vanilla, not great but better than nothing. We washed it down with a very nice glass of orange juice. Hugely expensive but worth it. We had a lot of climbing and descending to cope with on our way back to Newlyn where we came down the steep hill behind traffic which made for an interesting braking experience but we got to the bottom unscathed and carried on past the Newlyn Art Gallery and along the promenade. I spotted a Co-op and dived in for some sandwiches, cake and Lucozade as we had had nothing since breakfast. We found the station in plenty of time and our train was waiting. I collected my tickets from the machine and, after a bit of a struggle we managed to hang up the bikes and settled down for some refreshment.
The train started on time but shortly after we left we were informed over the tannoy that there were problems up the line and we would be running at least ten minutes late. As that was the length of time we had to change trains to the one from Exeter to Templecombe it looked as if we would be waiting an hour for the next service, but fortune favoured us when, having humped the loaded bikes over the railway bridge we got to Platform 1 at the same time as the train pulled in. So it's 9pm and after a two mile ride home in the dark from Templecombe station we're home
It's been an interesting journey, hindered by bike failure but generally enjoyable, particularly the last couple of days with a companion. As with all my long trips I wonder if I will ever do it again but come the New Year I shall probably plan my next escapade.